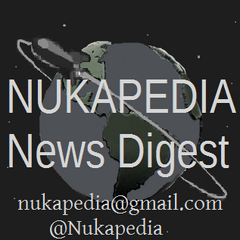 Welcome to the Nukapedia News Digest. Coming to you in superduperhighdef, Dolby surround stereo and with subtitles.
In your edition this week
Around the wiki
Want to be featured? Add an image for an article for your chance.
Caption Contest
Wondering who won the peoples vote each week? Follow us on Twitter (@Nukapedia) as we'll be tweeting the winner and the image.
Poll:4_Jan_Caption
In the Forums
Attenion Nukapedia Shoppers
Sold Out… For now.
Well, its seems our fears have indeed been confirmed. Fallout 1 2 and Tactics have been removed from Gog.com, and although they did seem to continue to be present initially, they've also fallen from steam too.

Bethesda have tweeted however that they are working on reading them to steam as quick as they can. No word on Gog.com

Personally, I find this rather disappointing. Bethesda knew this was coming for years, it was a part of the original deal to purchase the titles from Interplay, and was reconfirmed in the legal case 2 years ago (That long already? still feels like yesterday).

Here's hoping however they get the same treatment as Arena and Daggerfall, which are free downloads off the Bethesda Website.
Meanwhile, Until Jan 6, all items (with some exclusions… how can they call it all items?) are 20.14% off. I'll let you guess why.
FanZone