Weclome to the Nukapedia News Digest. We're better, Together.
In your edition this week
Around the wiki
New images this week selected by MountHail
Steam Sale
Wasteland 2
Wasted with the sequel to the game that made Fallout Possible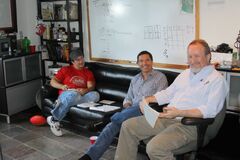 Wasteland 2 arrived on virtual shelves last Friday. Apparently its already earned about $1million in sales, and is receiving a lot of positive reviews, willing to overlook that its not as polygon-pushing or have as much voice acting as the AAA titles.

If you haven't played it already, get it now. it is worth it, and I hope to have a full review next week.

If you've liked what you've seen, and heard Buy the Album here.
Wikia Survey - win an iPad