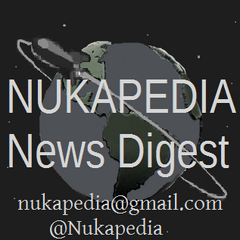 Welcome to the Nukapedia News Digest. Now with 99% less fat.
In your digest this week
Around the wiki
Last-Last Weeks Caption

Vote now in the box below for your caption of the week, and we'll Tumblr the winner next week
Select your favourite Caption
Bethesda News
Fallout 4 Alleged "Leak" and Todd Howard "Tease"
As fake as a 6 cap bill
We were looking into this as the last digest went to press… but the Machinima guys do a great job of busting the myths in this one.

For his part, VP Pete Hines repeated the line said by Todd Howard… that its going to be a while.
This video of Todd Howard has been called a possible "tease" of Fallout 4… But really, he says nothing except that he likes sauerkraut, and that they've been working on something for a while, and they want it to be a surprise.

Bethesda Store
This Weeks release - Wolfenstein
Doesnt this music seem… Familiar?
Its the real thing
I'd like to buy the world a home, and furnish it with nukes…
What if…. Bottle caps were currency?







Can't help but notice the shape looks like a Pulowski nuclear shelter…