Welcome to the Nukapedia News Digest. All the news thats fit to repost on a blog on the interwebs.
In your edition this week:
The Front Page
Last Weeks Caption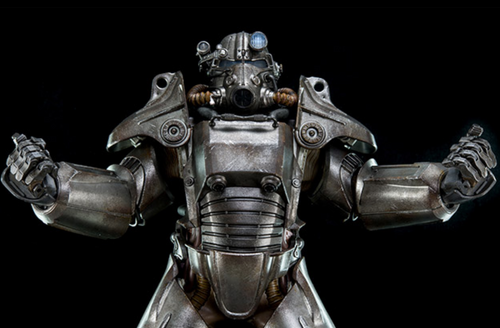 Here's our choice captions
This Week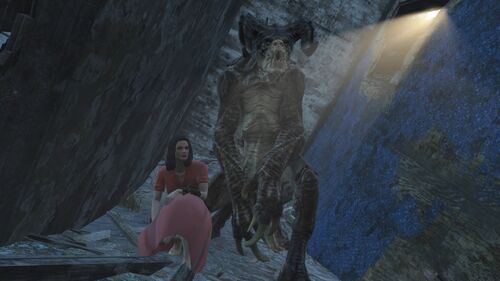 Miss NukaTurtle Shot that. Now you caption it.
We're Doomed
Bethesda issued this press release on February 4, 2016
Bethesda Softworks®, a ZeniMax® Media company, today announced that DOOM will be available worldwide on Friday, May 13, 2016 for the Xbox One, PlayStation® 4 computer entertainment system, and PC. DOOM, the iconic game that defined a genre and considered one of the most influential games ever made, returns as a brutally fun and challenging modern-day shooter experience.
DOOM is under development at id Software®, the studio that pioneered the first-person shooter genre and invented multiplayer Deathmatch. Relentless demons, impossibly destructive guns, and fast, fluid movement provide the foundation for intense, first-person combat – whether you're obliterating demon hordes through the depths of Hell in the single-player campaign, or competing against your friends in numerous multiplayer modes. Expand your gameplay experience using DOOM SnapMap™ game editor to easily create, play, and share your content with the world. DOOM garnered numerous E3 2015 awards and in a recent preview, Game Informer aptly described the gameplay as "an absolute blast."
Bethesda also revealed plans to release a premium collector's edition of DOOM that will be available across the globe through participating retailers. The limited DOOM collector's edition, created in conjunction with TriForce, includes an exclusive, fully-realized 12" tall collector's statue of one of the game's most iconic demons: the Revenant. Modeled from actual in-game 3D files and striking in appearance, the demonic Revenant stands on an LED-lit base with internal, slow-spinning turbine from the UAC facility on Mars. The DOOM collector's edition also includes a copy of the game packaged in an exclusive, battle-worthy metal case.
The DOOM collector's edition is available for pre-order through participating retailers and is priced at $119.99 (US), €129.99 (Europe), and £99.99 (UK). Players pre-ordering the DOOM collector's edition or the standard edition of the game will receive the Demon Multiplayer Pack which contains a unique demon armor set with three skin variations, six metallic paint colors and three id® logo patterns that can be applied to weapons and armor, plus a set of six Hack Modules – one-time consumable items that can give you an edge in a multiplayer match.
Awards for Todd
On March 16 the Game Developers Choice awards is going to give Todd Howard a lifetime achievement award. In addition to The Elder Scrolls and Fallout his long career starting with Terminator:Future Shock, which introduced MouseLook to FPS Gaming back in 1995. Before that he was turned down by Bethesda Softworks no less than twice... so if you're still struggling to get your big break, don't worry - you too can still achieve your dreams.
Budding game designers should look out for the Fallout 4 Modular Design seminar on the same day hosted by Joel Burgess and Nathan Purkeypile. More details here.
Awards for Fallout 4
LOS ANGELES, Feb. 9, 2016 /PRNewswire-USNewswire/ -- NAVGTR CORP. — The National Academy of Video Game Trade Reviewers, a non-profit media organization, has announced nominations for its 15th annual awards program honoring video game art, technology, and production.
The leader in nominations (20) is Fallout 4, setting a record for most nominations. Heavy Rain is now the second most-nominated game. With 17 nominations, The Witcher 3: Wild Hunt now ties for third most-nominated game in history, along with The Last of Us, Batman: Arkham Asylum, and Metroid Prime.
Small budget leaders include Undertale, Ori and the Blind Forest, Her Story, and Crypt of the Necrodancer. Additional small budget games include Axiom Verge, Grow Home, Lovers in a Dangerous Spacetime, Donut County, iDARB, Lines the Game, and Keep Talking and Nobody Explodes.
This year, with 21 nominations, Bethesda Game Studios leads the totals among development companies. CD Projekt RED has 17, and Nintendo has 14. Other top developers include Ready at Dawn (10), Rocksteady Studios (9), and Dontnod Entertainment (9). Developers Toby Fox and Sam Barlow tied the tallies from Microsoft.
More information here. Winners will be announced March 21, 2016.
BE3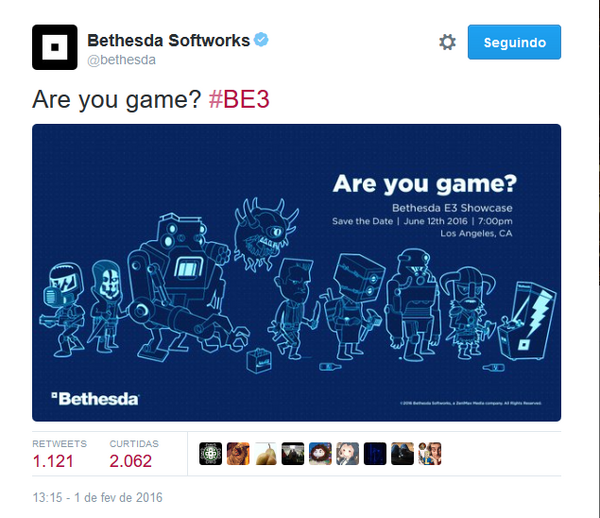 Bethesda will be doing its second pre-E3 press at Los Angeles. Bethesda's E3 2016 press conference is scheduled to start Sunday, June 12, at 7 p.m. PT.. It's presumed that they will talk about Doom 4, Dishonored 2, Battle cry and of course Fallout 4's downloadable content and it's patches
Hunger, sleep deprivation and thirst are back!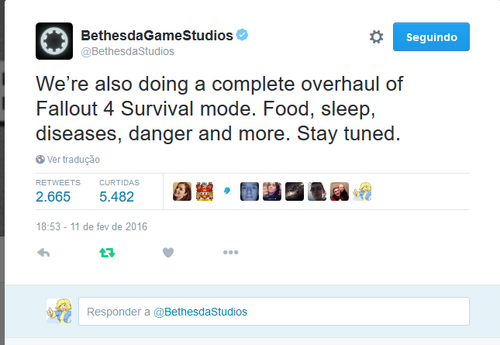 To all your hardcore mode lovers out there that wish that mode was in Fallout 4, well there it is. Bethesda has comfirmed through their twitter account that Hunger, sleep, thirst and even diseases will be in the survival mode for those who want to face the wasteland at its maximum. Thought not revealed when they will add those features to the game we expect it will be soon.
And Lastly....
A breaking update from Galaxy Sports News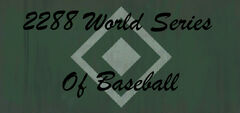 Attention Sports Fans! Moe "Swatter" Cronin here! Got your swatter ready? The Lions of the Citadel lead the CIT Beavers... Can they hold out? What the heck is a Beaver anyway? Support your favourite team now!
...and while you're at it, remember it is your civic duty to vote in Leea's Legendary Polls.
Credits
Agent_c (Editor in Chief) Gaming Foxy (Contributor)