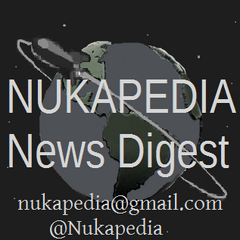 Welcome to the Nukapedia News Digest. Happy Hannakah to all.
The Front Page
Hiring Hall
Parlez-Vous Française? Bethesda is bypassing 'Ronto and opening a studio in Montreal, home to studios by Edios/Square Enix, Ubisoft, and Abstergo Entertainment.
"
"We've worked with some very talented developers in Montreal for a long time, and decided it was time to open a studio there," said Todd Howard, Game Director and Executive Producer at Bethesda Game Studios. "It's exciting to think about the new games we'll be building together."

Bethesda Game Studios Montreal has already established a core team of more than 40 developers, spanning both console and mobile development. The studio will be managed by industry veteran Yves Lachance as Studio Director.

"Our collaboration with Bethesda Game Studios has been an exhilarating and memorable journey already," said Lachance. "We are thrilled to be launching the studio in Montreal and contributing our city's great game-making talent to the kind of games that Bethesda Game Studios is known for."
"
— Press release
I tried to do a search on this Lachance guy, and after getting sidetracked with someone I presume isn't his cousin, spotted that he's the bigwig behind Fallout Shelter... Other than Wolfenstien: The New Order, I'd have to say his resume looks pretty plain, mostly Video Game adaptions of Disney movies...
You can search Bethesda's openings here.
Nukapedian Of The Year
As the holiday season begins, we will have our annual contest to show appreciation for those users who have had a great influence on the wiki. As many of you may remember from previous years, the Nukapedian of the Year is to be the user who has had the greatest positive influence on the wiki in the year 2015. The very idea of "positive influence" is open to interpretation, so its definition may vary between each user.
Here we have the first stage of the contest: nominations. - Skire
Mods Update
Even thought the Fallout 4 Creation kit is yet to be released there is alredy tons of mods out there (even one of our editors in news digest did one if you want to check out) and some of the first and most popular mods are the NewDialog that makes the game shows the full dialogues your character will say, graphical mods like Enhanced Blood and of course your usual nude mods.
Credits
Agent_c (Editor in Chief)
Gaming Foxy (Contributor)
Skire (Guest Contributor)