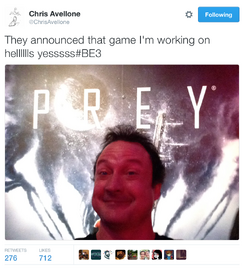 As many of you saw during the BE3 announcement, Fallout Veteran and former employee of Obsidian Chris Avellone will be working on Arkane's follow up to Prey, imaginatively called, well, err, Prey.
Not much is known about about the game, or Avellone's except to say that it was originally being developed by Human Head and had it have been released would have been the final game (to date at least) published by Bethesda/Zenimax but not made by a studio within the same corporate group. A brief show off at BE3 suggests a computer simulated world (stop me if you've heard this one before) with a sort of groundhog day effect. This simulation is being run on a space station, which promptly faces an alien invasion.
More is scheduled to to be shown off at QuakeCon in early August, lets hope we hear from the man himself!