For those of you who haven't seen this playthough of Vault Tech Workshop, please do give it a look, as it does answer a lot of questions - and raises even more - about what to expect later this month. Its going to hit your screens on July 26.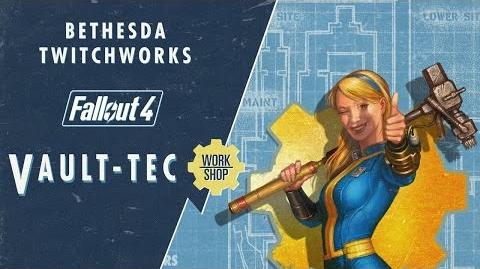 For those of you who don't have the time, here's the cliff notes:
Vault 88 is the key location for the workshop - you won't just just be given a load of new tools and be expected to go, you're going to have to follow the radio signal to the still closed vault - conveniently located in Quincy Quarries. If you're beyond level 20 the radio mission should trigger automatically, those below level 20 who want to chance it can trigger the radio by reaching the front door (good luck with that - Quincy is a level 35 location.
Inside you'll meet a few feral ghouls, and overseer Valery Barstow. She has a mission to run some vault experiments, but she needs a completed vault (not a less than half done wastepile) and Vault Dwellers to do it.
The main chamber of Vault 88 is a huge space designed to be a good building space whilst underground. There are a number of side chambers which you can also build in after you trigger and complete further quests. You can eventually build a long contigious vault in all of the spaces.
If you don't feel up for living underground, you can use the vault pieces in any settlement. You can even build a vault door which just happens to resemble the Vault 13 door.
Building your vault couldn't be easier (well, maybe if you pay someone to do it for you), The room pieces, which you'll find in a submenu of structures, slot together modually. You can mix and match room pieces, or follow the suggested theme. You can also use regular workshop items, and a number of other new items including posters, a security post, a barber chair and surgery station.
If you're worried about the trailer shot that resembled Fallout Shelter, don't be. That was an experiment to see if they could replicate the style.
You'll find people management is much, much easier now with the Vault Tec People management system. It sorts people by job, and you can reassign them through the terminal. You can also add quest markers to find your companions.
I'm sure there's much much more they're not telling us yet, be sure to give us your thoughts on the video here.