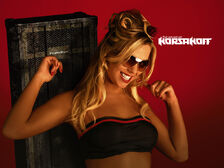 Me, RG (xbox account is x0 RG 0x)
Edit
First of I want to say I'm from holland (dus hallo allemaal) and I game a lot.
I play on my xbox, because my computer isn't very good. I'm on a bilingual school so my English is better than some other people of my age (in holland)
I listen to house, trance, dance, hardstyle, and some hardcore songs I like. Try some dutch artists : D-block & S-Te-Fan or Dj Korsakoff
Only edits I made on this site were some grammar mistakes and talked on the discussion pages.
Some of my favourite games are
1. Oblivion
2. Fallout 3
3. Cabal (on PC)
4. COD4
5. Chrome hounds