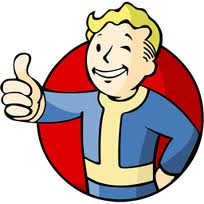 Muggy here! Whats up? Check out these helpful pages which I visit most!
---
Fallout New Vegas Wiki Pages
Edit
---
[1]-Weapons Here! This page helped me find all of them!
---
[2]-Helped me know what the heck I was fighting.
---
[3]-Helped me know what I'm wearing.
---
Fallout 3 wiki pages
Edit
---
[4]-Helped me know where to find weapons
---
[5]-Helped me get to places
Fallout New Vegas Tips
Edit
1.Barter is highly helpful
2.Speech is highly helpful
3.Companions are extremely helpful
4.Please message me for help, I've mastered this game!
Right now I'm doing Fallout New Vegas on xbox, trying to complete the story again. This time with no console commands! I haven't touched anything else, because I'm focused on the story I'll get back to you soon on Fallout 3 (On computer) .
---
Current Projects
Edit

I'd love to know you'r favorite Fallout New Vegas gang! Message me about it please! Choices are...
Powder Gangers
NCR (Not quite a gang, but still a choice)
Brotherhood of Steel
Great Kans
Legion
Followers of the apocalypse
Any New Vegas Casino Family
Other
---
New Vegas Hobbys
Edit
Trying to kill Deathclaws
Going to black mountain
Killing everyone in new vegas
---

Thanks for reading,--Muggy the Mini Securitron 06:31, April 18, 2012 (UTC)