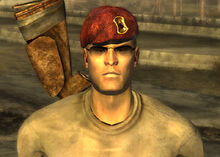 DO not edit this profile without my permission. if you don't listen, I will report you to a administrator.
Hi guys, I'm Jackalex13 and I have been on this wiki many, many times for any unique weapons and characters but I haven't been writing on this wiki but now I made my first edit about Deathclaws (they are a real pain in the ass and they are extremely dangerous and it causes me to run away from them if I see one). I've been learning about the characters, weapons and the perks and my character in Fallout NV is a Caucasian male, blue eyes and chocolate hair and my companions are Boone and Rex (they are my favorite characters) and finished I the game once with half a good ending.
When I first got Fallout New Vegas, I thought it was pretty cool but I changed my mind because I thought it was a long, boring, stupid piece of shit game but the next few weeks, I got used it and now I think it's a awesome game with cool quest, awesome unique outfits and guns and some great characters too!
When I started reading about F3, I was so damn excited to get the game and I watched the E3 trailer over and over again and when I got F3 for the first time, I loved it and it is way better than Fallout NV and the CWBOS (Capital Wasteland Brotherhood of Steel) is awesome.
South Park films
Edit
http://www.southparkstudios.com/full-episodes/s13e01-the-ring
Hope you like it
oh and remember, I change the video every three days so start watching.
My favorite pages
Edit
Weapons and Armor of choice
Edit
Fallout NV
Armor: Joshua Graham's armor, Daniel's outfit, Desert Ranger combat armor, sunglasses, Boomer flightsuit, Bounty hunter duster.
Guns: .45 Auto pistol with .45 AP HD slide, A Light Shining in Darkness, Mysterious Magnum, Lucky.
Melee Weapons: Knock-Knock, Chance's knife, Ballistic fist, Liberator.

Fallout 3
Armor: Lyons' Pride power armor, Armored Vault 101 jumpsuit, Vault jumpsuit (Fallout 3).
Guns: Wazer Wifle, Tesla cannon (Fallout 3), Eugene, Fat Man (Fallout 3), Colonel Autumn's 10mm pistol, Victory rifle.
Melee Weapons: Occam's Razor, Sledgehammer (Fallout 3).
Best Kills
Edit
Deathclaw (Fallout: New Vegas) (Legendary Deathclaw)
Nightstalker (Legendary Nightstalker)
F3 My Character
Edit
Gender: Male
Eye Color: Hazel
Hair Color: chestnut
Hair Style: Clean cut to Buzz cut
Facial features: Rough Beard
F:NV My Character
Edit
Gender: Male
Eye Color: Blue
Hair Color: Black
Hair Style: Buzzcut
Facial Features: Rough Beard
Mah favorite games
Edit
Skyrim
Saints Row The Third
Battlefield 3 and Battlefield: BC2
Assassin's Creed
Fallout 3 and New Vegas
Batman: Arkham City
Dead Island
Call of Duty
Halo
Mah favorite TV Series
Edit
South Park
Bones
X-Files
Family Guy
American Dad
Mah favorite movies
Edit
Alot actually....
Friends list
Edit