"
He is a mod for a reason after all
"
— Ever
Hello ladies and gents and welcome to my user page. Here you will find may things so please feel free to browse the tabs at the top. While you're at it, why not take a look at my WIP fanfiction, Vault Villains, hosted over on the roleplay and fanfiction wiki.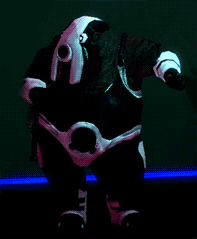 I got dem moves like Jagger
28th of June is Felicia day
"
This struggle, ladies and gentlemen, may now be forever lost.
"
— Henry Stillman, Resistance 2
"
I'll let you go. I'll let all of you go.
"
— Father Elijah, Dead Money
"
We can become the god's we've always been striving to be, we might as was well get good at it.
"
— Adam Jensen, Deus Ex: Human Revolution
"
Any sufficiently advanced technology is indistinguishable from magic.
"
— Arthur C. Clarke, Clarke's third law
"
Everyone needs money. The only question is; how much?
"
— Lex Luthor, Justice League Animated Series
Expression error: Unexpected < operator.Expression error: Unexpected < operator.Expression error: Unexpected < operator.Expression error: Unexpected < operator.Expression error: Unexpected < operator.
"
War is never a healthy thing to have, I don't hate the NCR per-say, I just think they're more trouble than they're worth and frankly, they're no better than the Legion
"
— -Jasper
When he escaped from his tank exactly is unknown, he awoke when a group of NCR soldiers entered the hidden lab, after briefly investigating him one of the soliders ordered another to "terminate him" this, understandably, angered Jasper, who broke free from his tank and slaughtered the soldiers without remorse.
Over his years wondering the Mojave, he discovered he had many unique powers, most notibly the ability to use concentrate sunlight in to a beam and use it as a weapon. Dispite his powers, Jasper still used conventional firearms and weapons as the situation calls for it.
When war came to Vegas, Jasper didn't hold the actions of his attackers againt the NCR, he did however, seek to see them out of Vegas, along with the Legion. Under the belief that if either won the war, the other would just return again in force to seek battle again Instead Jasper turned to side with the father of New Vegas: Mr House and found himself making unusal allies, including left over Enclave soliders who he formed a truce with over their shared goal of NCR eradication.
Although he himself is a genetically engineered super human, as a clone he comes from a flawed source and thus suffers shortsightedness, however he does process greater than human regenerative abilities, which means he can heal near instantly from minor wounds and sleep off more major ones, finding himself completely healed in the morning. If worst comes to worst and he is killed chances are he wont stay dead for long, as pretty much anything short of a point blanc nuclear blast won't be enough to set him down permanently.
*without glasses
*with glasses
Skills
| Skill Name | Description | Notes |
| --- | --- | --- |
| Solar Beam | The raw energy of pure sunlight is hurled at the target in a beam, burning through armour and ripping flesh from the bone, leaving litte but a charred skeleton. | Needs sunlight. Much weaker at night or indoors (impossibe if there is no natural light in the room), takes time to charge up unless the sunlight is strong, in which case it fires instantly |
| Focus Punch | A powerful punch that can shatter power armour and break bones if done correctly. | Takes time to focus energy, if interrupted focus will be lost. |
| Protect | Creates a shield stopping basic damage, although heavier attacks can sometimes break through. | If used multiple times in a short period it is likely to fail and gets weaker and less reliable each time unless allowed to cool down |
| Energy Ball | A small, relatively weak ball of energy is thrown at the target | Can be thrown very fast without consiquence, effecive againt weak and unarmoured targets but less so on heavy armour |
Expression error: Unexpected < operator.Expression error: Unexpected < operator.Expression error: Unexpected < operator.Expression error: Unexpected < operator.Expression error: Unexpected < operator.
Jasper Drake Balisong

Biography
race
Human
gender
Male
affiliation
Self


Statistics
SPECIAL
S:4 P:4 E:5 C:6 I:5 A:8 L:8(+1)
perks
Quickdraw
Weapon Proficiency: Conventional
"
Despite what most people say, there is still honor amongst thieves
"
— -Jasper
Born in to a NCR police state Jasper was raised by in a world of corrupt powers and rule and grew to hate both. He regularly acted out againt the system by committing a string of robberies, ranging from petty theft to great escapades of daring skill, by some streak of luck Jasper was never caught for his crimes and eventually left his home town to move on to bigger and brighter things. He became a treasure hunter and small time merc by day, a gun for higher to take care of all nature of things, as long as he got paid he was happy. But by night he returned to his roots, he once more became a master thief, unknown by all as anything more than a shadow in the darkness and a noise in the night.
Although he'll be fine with theft and murder, he holds honor as high importance. He would never go back on a deal or shoot a man in the back, if he's highered to do a job he'll do it, no matter what. He expects the same code of honor in return, and will set aside his own rules and happily gun down any who seek to use, cheat or otherwise deceive him. Jasper can be a dangerous enemy but an extreamly loyal ally, as long as you stay on his good side.
Quests
Trophies/Achievements
People
Places
Perks
Consumables
Categories
Category:Fallout 4 gameplay help
Category:Fallout 4 general discussion
| Type of edits | Edit count |
| --- | --- |
| Total | 5,494 |
| Article | 1,572 |
| Talk | 353 |
| User | 521 |
| User talk | 576 |
| Fallout Wiki | 4 |
| Fallout Wiki talk | 3 |
| File | 179 |
| File talk | 0 |
| Template | 1 |
| Template talk | 2 |
| Category | 7 |
| Category talk | 0 |
| User blog | 39 |
| User blog comment | 1,671 |
| Blog | 0 |
| Blog talk | 0 |