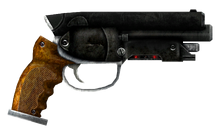 I have been a huge fallout fan since I played Fallout 3. Love the games and love the story. I came about The Vault when I was looking up weapon locations for Fallout: New Vegas and the Fallout Wiki came up. Since then it has been the best place to find information on Fallout related topics.
Rest of my profile I am a very geeky person. I love technology and gaming ... and yes Star Trek.
I believe that technology can pave the way for future generations, and I also believe that it can be used for the greater good.
I have been making YouTube videos for over 4 years now, and have recently started creating game play videos, which have been well received by the YouTube community.
Things I hate:
   ROMCOMS
   Disney
   RPG's with Magical kingdoms and all that (Fable 2 is an exception)
   JRPG's
   KIddies games (AKA All Wii games)
   Nintendo
   Stupid horror movies like Saw for example
   Scary Movie series.
   Disaster movie
   People who say games cause violence without any proof.

My favorite pages
Edit