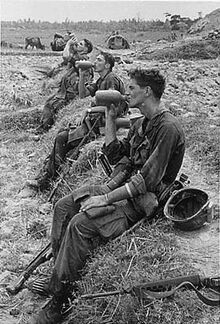 This is your user page. Please edit this page to tell the community about yourself!
Real Life Bio
Edit
-I was born May 13th, 1949. I dropped out of high school in 1964 and lied about my age to join the military. Approximately 6 months later I was one of the first soldiers to land in Vietnam.My Company consisting of 6 Hueys with 2 pilots, 1 crew, and 5 soldiers on each. 3 were shot down including the one I was on. While I was being medivaced out the man who saved my life was killed right before my eyes.While I was in the hospital I got a purple heart but refused to ship home due to my stupid desire for revenge, and my refusal to return home as a failure who lied to get in and saw 3 minutes of combat and quit. I served the rest of the war only going on leave when required and made Officer by the end of it. 2 years after the war I finished my third 4 year tour and left the marines to continue high school, graduate and (by military funding) pursue a series of degrees and finally a doctorate in pharmaceutical medicine. Finishing at the year of 1995. I got a job and settled down with my family (wife, kid and pets). And became a member of this wikia just recently.
Brizzies' Bio- Brizzie was always the talker,heck, even when he was a kid his first words were used to get him a kiss on the cheek from his mom. However he had the uncanny ability to fire his red-ryder-bb-gun faster and more accurate then any other child or adult. But until he was thrust into the wastes he never had to try it. But luckily for him and the inhabitants of Vault 13 he was just as fast on the .223 as he was his red-ryder.However he was a warrior of necessity not choice. He solved twice as many conflicts passively than by violence. But Brizzie could not save all the weak and demented of the wasteland but he saved many in his quest and those who weren't saved are now at peace. Brizzie stopped The Masters' army through The Master himself. The conversation between the two resulted in the Master committing suicide. This conversation was never shared to anyone as he would not speak of the past but only of the future or rarely the present.After his founding of Arroyo and his parenthood began to end, he became mentally unstable and fearful of death, and because of this fear wrote his memoirs and vanished into the wastes never seen by a soul. But Eizzirb (otherwise known as the chosen one) had a vision of him when an insurmountable obstacle appeared in his path ,which showed Brizzies' last moments, moments of revelation.
Eizzirbs' vision begins-A crumpled old man stands in the swirling sands of an unknown desert looking directly at you. A voice rings out,
"Child."-Brizzie
"Are you talking to me?"-Eizzirb
"Child, I fear there is not enough time for us to dawdle. What I must tell is all I will be able to tell you before my passing."-Brizzie
"I'm sorry, continue."-Eizzirb
"During my quest for the water chip I too faced a challenge that almost forced me to commit the atrocity of murder which, me being a pacifist by choice, couldn't commit."-Brizzie
"So, what did you do?"-Eizzirb
"I preyed on his fatal flaw the very thing that would commit the man to due everything he had done was the very thing that would get him to stop.Instead of pointing my gun at him and pulling the trigger, I gave him the gun and let him pull the trigger on himself, metaphorically."-Brizzie
"So, to defeat him, I need to find his weakness.I need to find his, "Fatal Flaw" ,to get him to self-destruct."-Eizzirb
"Yes, you must otherwise you would be letting a crime go unpunished and that is something that is not an option."-Brizzie
Slowly the image fades away in his mind and everything returned to normal as if time had frozen all around him. -Eizzirbs' vision ends