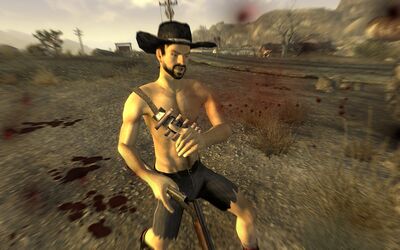 1337
F*** The NCR, F*** Ceasar, F*** The Brother Hood, F*** Mr.House, F*** The Khans, F*** The Followers Of The Apocalypse and all thier horeses they rode in on.
---
First up, my name's Cross, but you can call me: The Baddest, Cop Killing, F***-machine In The Wastes! (Like everybody else does), I like to blow s*** up with mah boys down in the Powder Ganger Camp, i also like to: Drink Vodka, Whiskey, Scotch, Beer, Wine, Take Jet, Pshyco And to eat strange meat pie
---
POOWDA GANGER 4 LIFE!! Edit
---
---

Don't F*** with me since im capble of f****** up a Legendary Death Claw with mah .357 Magnum n' Dynamites!... You don't want to see what i did to Easy Pete...
---
00110001001100110011001100110111Edit
---
Have a nice day! :3