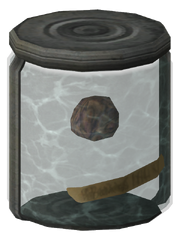 | | |
| --- | --- |
| | This user is on his way to becoming a sysop. |
| | |
| --- | --- |
| | And won't let anyone get in the way of that... |
| | |
| --- | --- |
| | Not even aliens. |
Now, I am confident when I say that I was the BIGGEST Fallout 3 addict alive! So with that in mind, let me also say this:
I know more about Fallout 3 than any other human alive!Edit
(Please don't tell Ausir or Porter I think I know more than them... it might ruin my chance of becoming a sysop!) ;-)
A Few Notes About Me:
Edit
I have played over 525 hours--yes, hours, I'm not kidding--on Fallout 3. And no, it's not because I was some sort of freak that just played Fallout 24/7. It's because it was the only game I played up until September... That's 10 months to those of you who are bad at math. Although, as I said earlier, I was still a huge addict. Either way, it adds up to me knowing a lot about Fallout 3.
I have Fallout for XBox360, which means I couldn't care less about Mods and Cheats and all that other crap that alters the already perfect game, so don't ask me about them. (Want another reason why I don't have it for PC? There's nothing that beats sitting on a couch and playing the game in front of a big Plasma screen TV...)
I might not be a sysop (yet), but it still really pisses me off when people either vandalize or just plain write wrong things on the articles. Just do us all a favor and only write if you are sure of your info... What's the point of getting banned anyway?
I strongly believe Fallout 3 is more fun and rewarding when playing with a Very Good karma character, than with a Very Bad one.
I have all the add-ons (of course), and my favorite is Broken Steel, with Mothership Zeta in second; they're all good, though.
Yes, I have Fallout 1 & 2, but sorry to all you die-hards, Fallout 3 surpasses them by a long shot!... Just look at the graphical difference. I still love them, though.
Me hablo español.
If you think I should or shouldn't become a sysop, leave a comment on the talk page. I just want to help the wiki anyway.
And yes, New Vegas... IT LOOKS EPIC!!!!
Favorite Games
Edit
Fallout 1, 2, and 3 (Obviously...)
Mercenaries 2
Battlefield: Bad Company
Project Gotham Racing 3 and 4
End War
Halo 1, 2, 3, and ODST
Modern Warfare 2
And my favorite game of all time is... Pirates: The Legend of Black Kat (It's a game from 2002, and the first game I ever played... I don't know if it's just the sedimental value of it, but no game has ever been more fun for me than this one.)
Favorite Developers: Bethesda, Pandemic, Infinity Ward, Bungie, Bizarre Creations