|thumb]]== Bruisingwarhawk's awesome page ==
Hello everyone!
Edit
Hi everyone this is my fallout wiki page. here I will upload screenshots,youtube vid links and some other cool stuff too. also be sure to check out the bethesda blog for the fallout series- http://forums.bethsoft.com/forum/40-fallout/ I also have an account and be sure to check out my profile and add me on the forums.
News updates and other cool stuff.
Edit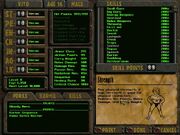 ==
July 21st, 2012- I uploaded 2 screenshots from my gameplay a few mins ago. The first one is my fallout 2 stats. yes, i know im a cheater, lol. But anyways the 2nd screenshot is me ariving in san francisco from new reno. in new reno i worked for a mob family and earned lots of money. now i plan to set new goals in san franscisco. I might upload more screenshots later but for now im going to continue playing fallout 2. :)

July 22nd, 2012- I wont be uploading any screenshots beacause i had to start a new profile because the other one glitched so i had to make another one. i will upload some screenshots later tonight though.Untill then im working on my new character.
You have been given a set of combat armor.

Your efforts and diligence have not gone unnoticed, and you have been given a small token of appreciation.

yep... MS: Destiny conquers all. 21:19, May 11, 2012 (UTC)
You have been given Brotherhood of steel Dog tags.

Your efforts and diligence have not gone unnoticed, and you have been given a small token of appreciation.

For Joining the BOS MS: Destiny conquers all. 21:19, june 12, 2012 (UTC)