But I have promises to keep,
And miles to go before I sleep,
And miles to go before I sleep.


Thanks to everyone who voted on my admin request! I will use these tools to serve this community to the best of my ability.
Andrew Sherwood
---
"
No. Not even in the face of Armageddon. Never compromise.
"
— Rorshach, Watchmen
---
Hello everyone, my name is Andrew and I am one of this wiki's administrators. My job around here entails general maintenance of articles, re-writes, and monitoring activity in the wikis chat. As of December 17th, 2013 I am almost fully active on the wiki during (my) waking hours, but my principle hours of activity are 0:00 GMT - 10:00 GMT. I am also an admin at the Strategic Nuclear Moose, drop by and chat about a variety of post-apocalyptic media!
I was born in 1988 and raised in Alberta, Canada. I have traveled the world extensively, spending time as a private contractor in the Middle East and Europe. Due to school, I am currently homebound for the time being, although I still frequently travel around Canada and the United States for research purposes. I have a Bachelor of Science degree in Evolutionary Biology and I am currently working towards a Bachelor of Arts in Military History.
That's enough about me, I think. If you have any questions please feel free to leave me a message on my talk page, or PM in chat. For your listening pleasure...
Gramaphonedzie - Why Don't You (2:36)
Frank Sinatra - Theme from New York, New York (djason remix) (3:30)
Icky - Ring a Ding Baby! (3:33)
Waldeck - Memories (4:50)
Parov Stelar - Chambermaid Swing (5:46)
Wiki Milestones
1,000th edit - John Henry Eden on January 21st, 2013
Received patroller rights from The Gunny on January 22nd, 2013
1,000th article edit - Carol's Place on January 30th, 2013
2,500th edit - Forum:Housekeeping votes on June 11th, 2013
Elected as a moderator on December 4th, 2013
2,500th article edit - Canada (yay!) on January 26th, 2014
Elected as an administrator February 8th, 2014
Pages created
I now run a bot, Usanagi, which is based on Pywikipediabot. Please leave a message on my talk page if you have any work that needs to be done. I am still familiarizing myself with the scripts and capabilities but I will do my best.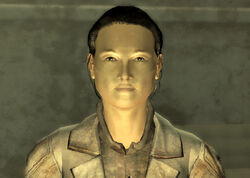 "
We believe that technology... should be shared, not hoarded.
"
— Doctor Usanagi
Someone should sign here so I don't look stupid.  :P
| | |
| --- | --- |
| | This user is from Canada. |
| | |
| --- | --- |
| | This user is male. |
| | |
| --- | --- |
| | This user is a proud member of the LGBT community. |















Apparently I have to add some text here to make the tab look pretty. So, yeah.
Max Sherwood is a Brotherhood of Steel paladin operating in the Capital Wasteland in 2277. His actions and decisions are key to the events of Fallout 3.
Background
Edit
Max Sherwood was born at the Jefferson Memorial in Washington, D.C. on July 13, 2258 to James and Catherine. Unfortunately, his mother died in childbirth and James abandoned the memorial, venturing west to Megaton before gaining entrance to Vault 101. It was in the confines of Vault 101 that Max grew up, never knowing the outside world.
In
Timeline#2277
, Max escaped Vault 101 with the assistance of
Amata Almodovar
after waking to find James had vanished without a trace. Max set out into the wastes with an adventurer's curiosity, bent on finding his father and a place in what remained of the real world.