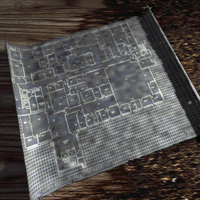 The Series 1000 shelter was a type of a nuclear fallout bunker designed by the Vault-Tec Corporation. It was a one level, extensive subterranean installation, of which the exact purpose is unknown. Its blueprint is used as the town map for Vault 15 in Fallout 2. The Series 1000 shelter appears to be a basic shelter that can be set up at very low cost, providing far poorer protection than a Vault.
Appearances
Edit
The blueprints for the Series 1000 shelter only appear in Fallout 2.
Ad blocker interference detected!
Wikia is a free-to-use site that makes money from advertising. We have a modified experience for viewers using ad blockers

Wikia is not accessible if you've made further modifications. Remove the custom ad blocker rule(s) and the page will load as expected.