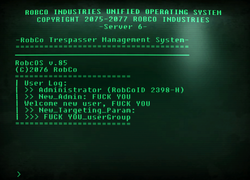 RobCo Termlink is the firmware BIOS that is run when a terminal is started. Its main task is to connect to the mainframe and initialize the operating system.
Background
Edit
BIOS is an acronym, short for "Basic Input/Output System". Since it is both an extremely simple and low-level computer utility, it is also a very powerful one that allows a user to bypass more complex systems and (in this case) their associated security protocols.
According to RobCo Termlink, the boot agent was copyrighted by RobCo Ind. in 2201 and expired in 2203. This is improbable, due to the fact that RobCo Industries or any sort of legal system necessary to patent something did not exist 124 years after the Great War.
Error codes
Edit
Like any BIOS, RobCo Termlink mainly communicates by error codes.
Appearances
Edit
The RobCo Termlink appears in Fallout 3, Fallout: New Vegas, and Fallout 4.