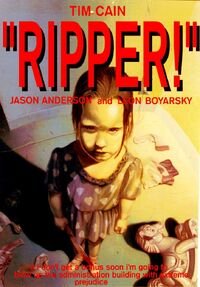 Posters advertising the fictional pre-War movie Ripper! hang in front of the deathclaw warehouse in 2161 and Golden Globes Studio in 2241. The poster lists Tim Cain as director and Leon Boyarsky and Jason Anderson as stars. The tagline reads, "If I don't get a bonus soon, I'm going to blow up the administration building with extreme prejudice." The character on the poster, presumably the killer, would appear to be a young girl, but from the nature of the tagline it could be inferred that she is actually some sort of house maid or domestic servant.
Appearances
Edit
The Ripper! movie poster appears only in Fallout and Fallout 2.
Ad blocker interference detected!
Wikia is a free-to-use site that makes money from advertising. We have a modified experience for viewers using ad blockers

Wikia is not accessible if you've made further modifications. Remove the custom ad blocker rule(s) and the page will load as expected.