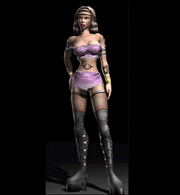 A prostitute is someone who engages in sexual acts for money. Like virtually all other forms of illegal activity, prostitution flourished in the decline of law and order that followed the Great War.
Fallout 2Edit
Fallout 3Edit
Fallout: New VegasEdit
Fallout 4Edit
Magnolia, an ex-prostitute, now singer at The Third Rail. She can be romanced by the Sole Survivor after 3 successfull speech checks.
Fallout TacticsEdit
Fallout: Brotherhood of SteelEdit
Van BurenEdit
| | |
| --- | --- |
| | The following is based on Van Buren and has not been confirmed by canon sources. |
Fallout: New VegasEdit
Ad blocker interference detected!
Wikia is a free-to-use site that makes money from advertising. We have a modified experience for viewers using ad blockers

Wikia is not accessible if you've made further modifications. Remove the custom ad blocker rule(s) and the page will load as expected.