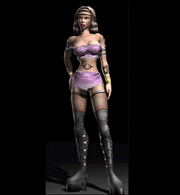 A prostitute is someone who engages in sexual acts for money. Prostitutes appear in all the Fallout games. Like virtually all other forms of illegal activity, prostitution flourished in the decline of law and order that followed the Great War.
Prostitutes in the games
Edit
Fallout 2Edit
Fallout 3Edit
Fallout: New VegasEdit
Fallout 4Edit
Magnolia, an ex-prostitute, now singer at The Third Rail. She can be romanced by the Sole Survivor after 3 successfull speech checks.
Fallout TacticsEdit
Fallout: Brotherhood of SteelEdit
Van BurenEdit
| | |
| --- | --- |
| | The following is based on Van Buren and has not been confirmed by canon sources. |
Fallout: New VegasEdit