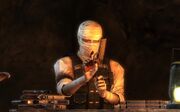 Joshua Graham
, commonly known as
Hanged Man
, is a possible
companion
in
Van Buren
. He is wrapped from head to toe in bandages as he had been burned pretty much all over. The fact that he is still quite mobile and dangerous is a testament to his badassness.
Graham is one of the most evil characters around, who has committed all sorts of evil acts like rape, murder and robbery. The tribals have feared and hated him already since the days when he was a member of Caesar's Legion. Even the civilized people are scared of him because he is a man with a seemingly infinite amount of lives.
The
Prisoner
encounters Graham hanged by the neck from a pole at
Fort Abandon
, obviously still alive and enraged.