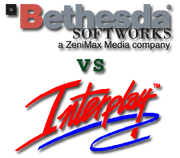 Bethesda Softworks LLC v. Interplay Entertainment Corporation
was a legal dispute between
Bethesda Softworks
, the current owner of the
Fallout franchise
, and
Interplay Entertainment
, the publisher of the original
Fallout
games, and in settlement confirmed that Bethesda was the sole owner of the Fallout franchise, and ended the hopes of Interplay to create any future Fallout titles, including
Project V13
.
The court was asked in the lawsuit to examine the following questions
Were the Trademark License Agreement (TLA) and Asset Purchase Agreement (APA) valid?

Given Interplay believed Fallout copyrights were included in the TLA, and Bethesda did not, was there a "meeting of the minds" in the APA? This may make the TLA invalid.
Is a meeting of the minds an issue in a written contract under Delaware law? **If the TLA is invalid, does it in turn mean the APA is invalid? Are they a part of the same deal, or separate deals?

If the TLA is valid, then has it been rightfully revoked?

Did Interplay meet the financial requirements of the TLA by the agreed deadline?
Similarly, did Interplay meet the development requirements of the TLA by the agreed deadline?
Is the agreement between Interplay and Masthead permitted under the TLA?
Did Bethesda act in good faith, or did they attempt to prevent Interplay from achieving the requirements of the deal?

If the TLA and APA are invalid, who owns Fallout now?

Is the old 3 game licensing agreement back in effect?