Welcome to Nukapedia - The Fallout WikiWe are creating the ultimate guide to the Fallout series, and you can help!
We have over 24,392 articles so far, and are still growing!Join us on social media

:

  



Join the Chat>

Community Features

Fallout Friday Polls are here!

Make sure to answer each poll and leave a comment! More polls every week!

APR. 14, 2017 - A…

Read more >

Today marks the first day of Hurricane Season for the United States. Woo-freaking-hoo. If there is one part fo the year…

Read more >

Fallout Friday Polls are here!

Make sure to answer each poll and leave a comment! More polls every week!

Happy Easter, eve…

Read more >
New Season of Nuka Break coming soon!
By Peace'n_Hugs

Recently, Wayside Digital (formerly known as Wayside Creations) released their final trailer Fallout: The Wanderer, for their latest fan series in the Fallout universe. For those new to Wayside Digital: Wayside Digital is the non-profit that brought us the excellent Fallout: Nuka Break series, a very well known Fallout fan series that's popular enough to get an own Wikipedia page and even an in-game reference in Fallout: New Vegas.

To read more, and comment, click here
(6 October) Today Bethesda Game Studios released Update 1.8 for the award-winning mobile and PC game, Fallout Shelter, allowing Overseers to craft themes for their Vault rooms based on their favorite Fallout 4 factions, introducing Holiday celebrations, and bringing even more new Quests to the free-to-play game.

Click here to comment on this article
Nukapedian of the Year award
By Peace'n Hugs

As Christmas and New Year are at our doorsteps, we will have our annual contest to show appreciation for those users who have had a great influence on our Wikia this year. As many of you may remember from previous years, the Nukapedian of the Year is to be the user who has had the greatest positive influence on the Wikia in the year 2016. The very idea of "positive influence" is open to interpretation, so its definition may vary between each user. In the past years, this blog series had been organized by one of our former admins, Skire, who sadly resigned this year. I'm honored though to continue this tradition this year and would like to thank him for giving us the great tradition.
Here we have the first stage of the contest: nominations.
To read more, and comment, click here

For the latest news on Fallout, Bethesda Games, Merchandise and whats happening around the wiki visit the Galaxy News Live News Page
.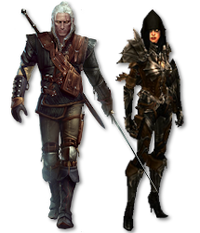 RPG Games
Go to these sites for info or for help with your own wiki!
AdventureQuest • Agarest War • Arcanum: Of Steamworks and Magick Obscura • Baldur's Gate • Dark Souls • Deus Ex • Diablo • Divinity • Dragon Age • Dragon Blaze • Dragon's Dogma • Elder Scrolls • Fable • Fallout • Faster Than Light • Fate/Grand Order • Five Nights at Freddy's World • For Honor • Hyper Light Drifter • Legend of Heroes • Masquerada • Mass Effect • Might & Magic • Shadowrun • Stories: The Path of Destinies • Tom Clancy's The Division • Torment • Ultima • Undertale • The Witcher
Want your community included? See how!

Ad blocker interference detected!
Wikia is a free-to-use site that makes money from advertising. We have a modified experience for viewers using ad blockers

Wikia is not accessible if you've made further modifications. Remove the custom ad blocker rule(s) and the page will load as expected.