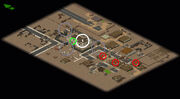 Kansas City
was a major nuclear launch site before the
Great War
. When the city was hit by the bombs, the silo staff survived the attack. Turning into
ghouls
, they founded a town called "Gravestone" in the ruins of the city. The ghouls have since established a cult worshipping the only nuclear bomb left intact in the silo, which they call "
Plutonius
". "The Bishop" (
Defcon
the Second, son of T-Minus) is in charge of both religious and civil affairs. Around
2198
,
Gammorin's Army
establishes a base in southern area of Kansas City, and tries to assault Gravestone in order to get the atomic bomb worshipped by the ghouls.