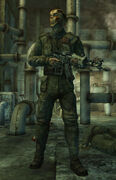 Two hundred years after the
Great War
, a
Chinese remnant
still resides in
Mama Dolce's Processing Plant
in the ruins of
Washington, D.C.
Composed of ghoulified pre-War soldiers loyal to the
People's Republic of China
, the Remnant is oblivious to the fact that its original mission of espionage has become rather pointless in the aftermath of the
Great War
. As a result, the
soldiers
have occupied the food processing plant since
2077
and fiercely defend it against all intruders.