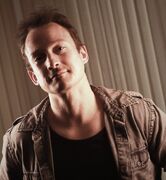 Chris Avellone
got involved with the
Fallout
series when production was started on
Fallout 2: A Post Nuclear Role Playing Game
. While many feel that his "feel" for the Fallout canon was lacking, the design of
New Reno
has been praised by just as many.
Later, he became the lead designer of a project codenamed Van Buren, which was canceled in 2003 and revealed to have been Black Isle's attempt at developing Fallout 3. During this time, he also compiled the Fallout Bible.
After leaving
Black Isle Studios
, Avellone, together with
Feargus Urquhart
, founded
Obsidian Entertainment
. At Obsidian, Avellone has worked on such titles as
Star Wars: Knights of the Old Republic II
,
Neverwinter Nights 2
and its expansion,
Mask of the Betrayer
, and was lead designer on the upcoming title
Alpha Protocol
. He is currently a senior designer on
Fallout: New Vegas
.