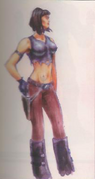 Lilith
was going to be one of the four playable characters in the canceled
Fallout: Brotherhood of Steel 2
.
She is Latina, with short black hair and green eyes. She has no tattoos and tends to wear a sports bra under her tank top. She likes to wear jean shorts.
Lilith grew up in the
Brotherhood of Steel
, like most recruits. She is extremely hot-tempered and rash, but her range skills are unequaled. Most of the Elders in the BoS put up with her attitude because of her potential.
[8]