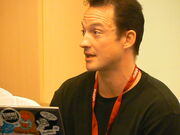 Christopher Frederic Avellone
(born September 27, 1972) is a video game designer who has worked on
Fallout 2
,
Van Buren
(the canceled
Fallout 3
by
Black Isle Studios
), and
Fallout: New Vegas
. He has also compiled the
Fallout Bible
.
Steve Peterson, one of the founders of Hero Games, provided Avellone an interview with Interplay, a large game publisher at the time. His knowledge of role-playing games and his ideas impressed Interplay, and he was offered a position as a game designer. Around 1995 or 1996, Avellone moved to Orange County, where Interplay was located.
Although he was offered the opportunity to work on Fallout, he instead worked on Descent to Undermountain, a decision he later came to regret.[10]
Avellone got involved with the Fallout series when production was started at Black Isle Studios on Fallout 2. While many feel that his "feel" for the Fallout canon was lacking, the design of New Reno has been praised by just as many and Chris says that other areas (such as the raiders area) were perhaps lesser developed due to the extra emphasis he placed on this area;[11] Following the completion of New Reno, he helped complete Vault City and worked on the special encounters as well[12] While he enjoyed his work on the game he felt that a lot of mistakes were made during development including the lack of overall control over a united feel, mistakes that would go on to become the basis of his game design philosophy.[13]
Later, he became the lead designer of a project codenamed Van Buren, which was canceled in 2003 and revealed to have been Black Isle's attempt at developing Fallout 3. He wrote the Tibbets Prison design document.
After leaving
Black Isle Studios
, Avellone, together with
Feargus Urquhart
, founded
Obsidian Entertainment
.