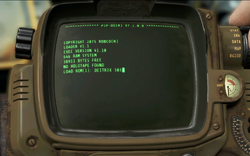 The Pip-OS v7.1.0.8 is an operating system developed by RobCo Industries for the Pip-Boy 3000 Mark IV.
The details listed on boot up include:
Appearances
Edit
The Pip-OS v7.1.0.8 appears only in Fallout 4.
Behind the scenes
Edit
The inscription «64K RAM SYSTEM 38911 BYTES FREE» is a reference to the home computer Commodore 64, produced from 1982 to 1994.
Ad blocker interference detected!
Wikia is a free-to-use site that makes money from advertising. We have a modified experience for viewers using ad blockers

Wikia is not accessible if you've made further modifications. Remove the custom ad blocker rule(s) and the page will load as expected.