Overseer's armor is a set of armor in Fallout 4.
Characteristics
Edit
Overseer's armor is unique wearable apparel. It is a pair of heavy combat armor armguards that afford slightly higher than normal Damage Resistance and Energy Resistance along with Legendary armor effects. The left armguard comes with the VATS enhanced effect, which reduces the amount of AP used by VATS attacks by 10%. The right armguard provides the sentinel effect, which reduces incoming damage by 15% while the Sole Survivor is standing still.
Overseer's left armguard
Overseer's right armguard
Overseer's left armguard
Edit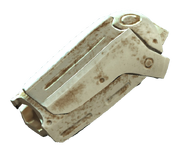 10% reduction in Action Point costs in VATS
Damage Protection: 21
Energy Protection: 21
Radiation Protection: 0
Weight: 8.7
Mods: Fiberglass, Stabilized
Value: 6,282 caps
Overseer's right armguard
Edit
Reduces damage while standing and not moving by 15%
Action Points + 5
Damage Protection: 22
Energy Protection: 22
Radiation Protection: 0
Weight: 7.1
Mods: Polymer, Ultra-light
Value: 6,300 caps
Locations
Edit
Expansion required

This article is too short to provide more than rudimentary information about the subject. You can help

Nukapedia

by

expanding it

.
Outfits
Agatha's dress

 ·

Army fatigues

 ·

Athletic outfit

 ·

Baseball uniform

 ·

Bathrobe

 ·

Beaded blazer

 ·

Black vest and slacks

 ·

Bomber jacket

 ·

Brotherhood fatigues

 ·

BOS uniform

 ·

Casual outfit

 ·

Checkered shirt and slacks

 ·

Child of Atom brown rags

 ·

Child of Atom green rags

 ·

Child of Atom long brown rags

 ·

Child of Atom long green rags

 ·

Child of Atom long rags

 ·

Child of Atom short rags

 ·

Child of Atom short brown rags

 ·

Child of Atom short green rags

 ·

Child of Atom simple rags

 ·

Cleanroom suit

 ·

Colonial duster

 ·

Covert sweater vest

 ·

Courser uniform

 ·

Drifter outfit

 ·

Engineer's armor (Teagan's armor)

 ·

Explorer outfit

 ·

Farmhand clothes

 ·

Fatigues

 ·

Feathered dress

 ·

Field scribe's armor

 ·

Flannel shirt and jeans

 ·

Geneva's ensemble

 ·

Greaser jacket and jeans (Atom Cats, Zeke's)

 ·

Green shirt and combat boots

 ·

Grognak costume

 ·

Gunner flannel shirt and jeans

 ·

Gunner guard outfit

 ·

Hazmat suit (Damaged)

 ·

Hooded rags

 ·

Kellogg's outfit

 ·

Ingram's UnderArmor

 ·

Institute division head coat

 ·

Institute jumper

 ·

Institute lab coat

 ·

Lab coat (Cabot's, Father's, Vault-Tec)

 ·

Laundered dress (Blue, Cream, Denim, Green, Rose, Pink)

 ·

Laundered loungewear

 ·

Leather coat (Traveling leather coat)

 ·

Letterman's jacket and jeans (DB Tech varsity uniform)

 ·

Long johns

 ·

Longshoreman outfit

 ·

MacCready's duster

 ·

Maxson's battlecoat

 ·

Mechanic jumpsuit (Green, Red Rocket)

 ·

Military fatigues

 ·

Minuteman outfit

 ·

Minutemen general's uniform

 ·

Padded blue jacket

 ·

Pastor's vestments

 ·

Postman uniform

 ·

Quinlan's armor

 ·

Radstag hide outfit

 ·

Raider leathers

 ·

Railroad armored coat

 ·

Ratty skirt

 ·

Red dress

 ·

Red frock coat

 ·

Red leather trench coat

 ·

Road leathers

 ·

Science scribe's armor

 ·

Sequin dress

 ·

Silver Shroud costume

 ·

Squire's uniform

 ·

Submariner uniform

 ·

Suit (Black, Blue, Striped, Tan, Grey, Patched, Patched Three-Piece, Lorenzo's)

 ·

Summer shorts

 ·

Surveyor outfit (Reginald's suit)

 ·

Suspenders and slacks

 ·

Synth uniform

 ·

Tattered field jacket

 ·

Tattered rags

 ·

T-shirt and slacks

 ·

Tuxedo

 ·

Undershirt & jeans

 ·

Utility coveralls

 ·

Winter jacket and jeans

 ·

Yellow trench coat

 ·

Vault jumpsuit