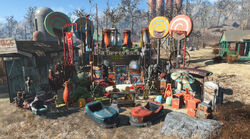 Nuka-World settlement objects are objects that can be built with the workshop with the Fallout 4 add-on Nuka-World installed.
Objects for the different park zones will not unlock unless certain locations are visited and cleared. The amplifier will not show up unless a Nuka-World transmitter is built and powered, and the resources and dealers sections of the raiders category will not appear until Home Sweet Home is started.
Additionally, items under the flags, resources, and dealers categories will not appear in the workshop menu unless the settlement is raider-controlled.
Decorations

Nuka-World

Nuka-Town USA
Nuka-Cade
Galactic Zone
Dry Rock Gulch
Kiddie Kingdom
Safari Adventure
Bottling plant
Miscellaneous

Miscellaneous

Power
Raider

Flags
Resources
Dealers
Operators
The Pack
Disciples
Miscellaneous
Expansion required

This article is too short to provide more than rudimentary information about the subject. You can help

Nukapedia

by

expanding it

.
Ad blocker interference detected!
Wikia is a free-to-use site that makes money from advertising. We have a modified experience for viewers using ad blockers

Wikia is not accessible if you've made further modifications. Remove the custom ad blocker rule(s) and the page will load as expected.