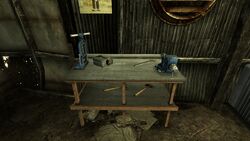 My First Workbench is an upgrade for the Lone Wanderer's house or suite which adds a workbench to the house. Workbenches are used with schematics to create custom weapons from the component parts found throughout the wasteland.
Become an owner
Edit
Making items
Edit
A workbench is used to create custom-built weapons if you have that weapon's schematic. These weapons include the railway rifle, Rock-It Launcher, Shishkebab, deathclaw gauntlet, Nuka-grenade, bottlecap mine, and dart gun.
When the workbench is purchased, it comes with a wrench, hammer and a bottlecap mine.
The bottlecap mine will sometimes respawn.
Ad blocker interference detected!
Wikia is a free-to-use site that makes money from advertising. We have a modified experience for viewers using ad blockers

Wikia is not accessible if you've made further modifications. Remove the custom ad blocker rule(s) and the page will load as expected.