Museum of History
Talk

28
17,157pages on
this wiki
Museum of History

Entrance to the Museum, view from the Mall

Site
map marker
Museum of History
part of
The Mall

Technical
cell name
MuseumAmericanEntrance
MuseumAmerican01 (Lower Halls)
MuseumAmerican03 (offices)
ref id

00074eb2




0001851f

(Lower Halls)


0001851d

(offices)

Maps


The Museum of History, inside view from channel 8: Washington, D.C. of the Prepare for the Future teaser site
"
Some of them went crazy. Some of us just accepted it. After a while, other ghouls would find their way in here and Underworld just sort of grew.
"
— Carol
The Museum of History is a former museum and all-ghoul settlement located in Washington, D.C. in Fallout 3.
The museum is on the north side of The Mall, north and a little east of the Washington Monument. Its east and west wings straddle the Museum station western exit. Willow, the Underworld sentry, can be found patrolling the area between the metro station and the museum entrance.
The structure itself is relatively undamaged, but most of the exhibits have been destroyed or ruined. The only non destroyed exhibit is a Woolly Mammoth which can be seen as soon as you enter. It contains the entrance to the Underworld, a city of ghouls. The Museum also houses a number of artifacts of Abraham Lincoln (see below), notably including Lincoln's repeater and Lincoln's hat. The building occupies the real-world site of the National Museum of Natural History.
As with many buildings, like the Washington Monument and Capitol Building, the only access to it would be through the Metro. Be warned, the Metro is inhabited by a number of raiders, and the only way to get through the Metro to the Museum would be to fight your way through. The easiest way to get to the museum through the Metro would be to go in Anacostia Crossing and head up the tracks, then through the Museum station.
Inhabitants
Edit
The Museum - except for Underworld - is infested by feral ghouls, glowing ones and reavers. Fawkes will be waiting in the lobby if the player decided to free him from Vault 87, without picking him up as a companion.
With Broken Steel installed, Griffon will also inhabit the lobby selling Aqua Cura if the quest Take it Back! is completed.
Notable loot
Edit
Lincoln's artifacts
Edit
The Museum of History houses a considerable number of artifacts of Abraham Lincoln. As the former president is a symbol of hope for slaves in the Wastelands, his artifacts are highly sought after by both slaves and slavers (and historians, of course). See the main article for item locations and buyers.
Museum of History entrance
Edit
Museum of History Lower Halls
Edit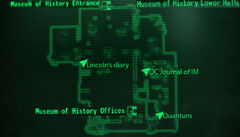 Museum of History offices
Edit
Appearances
Edit
The Museum of History appears only in Fallout 3.