Mother (Fallout Tactics)
Talk

3
15,659pages on
this wiki
Expression error: Unexpected < operator.
Mother
"
Hsst! At lassst, I am free! At lassst! My children! You are ssslaves no more! Dar! I will sssuck the marrow from your bonesss.
"
Mother or Matriarch is the oldest, wisest and strongest of all the hairy deathclaws found in and around Chicago.
Background
Edit
She is the leader of her kind, referring to them as her brood. However, she was captured by the Beastlords of Mardin, and was used by them to gain control over the deathclaws. She was liberated by the Warrior of the Brotherhood of Steel. Thankful, she permitted some of her kind to join the Brotherhood, and even joined it herself.
Interactions with the player character
Edit
Interactions overview
Edit
General
Services
Location

| | |
| --- | --- |
| Merchant: | no |
| Replenish: | no |
Inventory
Edit
| Apparel | Weapon | Other items |
| --- | --- | --- |
| - | - | - |
Availability
Edit
Mother becomes available after the Warrior reaches the rank of Junior Knight, and after he/she helps her in Mardin.
Notable quotes
Edit
"Have you come to kill me? Sssurly you wisssh to kill the ssssource of the Deathclaw infesssstation?"
Appearances
Edit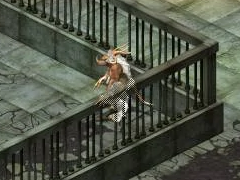 Mother appears only in Fallout Tactics. Her appearance is different in the various settings where she is encountered:
In Mardin she appears with pure white fur and is labelled as "Matriarch".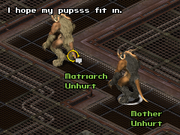 In Bunker Gamma she appears with pale gray fur and is labelled as "Matriarch" as she runs around the garage area.
When recruited into the party she appears with dark gray fur and is labelled as "Mother". It is done, probably, to distinguish two separately-programmed models that made up this character: a recruit and quest-important character.