The Metro Central station terminal entries are a series of terminal entries in Fallout 3, found on the wall terminal next to the Protectron pod in the metro office at Metro Central.
Metro terminal
Edit
RobCo Service Terminal
V 6.0.3.2.1.a

------------------------------------
For More Top Of The Line
RobCo Products See
Your Local Showroom.
Run Ticket Check Routine
Edit
> <ERROR> Maintenance In Progress
DCTA Metro Map
Edit
DCTA Metro Map
------------------------------------
View/Download Metro Map
Edit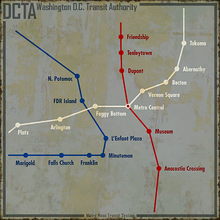 Ad blocker interference detected!
Wikia is a free-to-use site that makes money from advertising. We have a modified experience for viewers using ad blockers

Wikia is not accessible if you've made further modifications. Remove the custom ad blocker rule(s) and the page will load as expected.