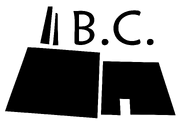 In
Van Buren
, the canceled
Fallout 3
by
Black Isle Studios
,
Powder gangs
are packs of criminals from the eastern parts of the
New California Republic
. When NCR attempted to expand east, they needed railways to carry supplies to distant locations, especially places ripe for colonization. For this task, NCR used criminals from their
Black Canyon
prison who were approaching the end of their sentences. Unfortunately, when NCR started to have financial problems, payments to the workers started coming up late or short. Eventually, the workers decided to take matters into the own hands, seizing the work stations and all the blasting powder they could find. They became powder gangs, blowing up any and all caravans and railways they came across.