"
"Love Sets Sail" received the largest box-office draw of all of Vera's movies - and the most scathing of reviews.
"
— Dead Money loading screen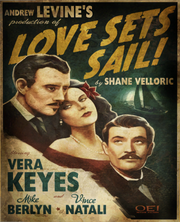 Love Sets Sail! is a pre-War movie produced by Andrew Levine and written and directed by Shane Velloric. It stars Vera Keyes, Mike Berlyn, and Vince Natali. Not much is known about the movie's plot, but it was apparently a romance movie. Vera Keyes' audition plays one of Vera Keyes' lines from the movie.
Location of posters
Edit
Appearances
Edit
The Love Sets Sail! movie poster appears in the backstage of the Sierra Madre theater in the Fallout: New Vegas add-on Dead Money, as well as the Z-38 lightwave dynamics research building in Old World Blues. The movie is also briefly mentioned in the Fallout 4 add-on Far Harbor, where Gilda Broscoe claims that Vera only got a role in the movie because her uncle was the producer.
Behind the scenes
Edit
Names appearing on the poster were mostly based on inspirations for Dead Money[1]:
References
Edit
↑ Information acquired from Chris Avellone by Paweł "Ausir" Dembowski for The Vault
Ad blocker interference detected!
Wikia is a free-to-use site that makes money from advertising. We have a modified experience for viewers using ad blockers

Wikia is not accessible if you've made further modifications. Remove the custom ad blocker rule(s) and the page will load as expected.