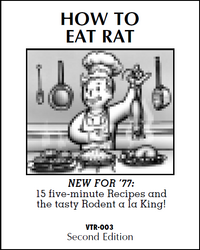 How to Eat Rat was a Vault-Tec survival manual.[1]
Description
Edit
Designated VTR-003, this book covered survival strategies and other information useful in case of a worldwide famine. Only two issues were published, with the latest one in 2077. There were over 101 recipes in the book for every meal, from snacks to desserts. New for 2077 were 15 five-minute Recipes and the tasty Rodent a la King!.[2]
References
Edit
Ad blocker interference detected!
Wikia is a free-to-use site that makes money from advertising. We have a modified experience for viewers using ad blockers

Wikia is not accessible if you've made further modifications. Remove the custom ad blocker rule(s) and the page will load as expected.