"
He was a mean old man, owned this whole mine a million years ago. Made the miners work real hard, and didn't give them any money for their kin.
"
— Kenny
Herzog Mine is a location in Point Lookout. Herzog Mine is set into the rock, to the south of the Ark & Dove resting grounds and southwest of the Coastal grotto.
Background
Edit
The Herzog mining site was named after an old man named Herzog, the owner of the mining site who put the miners through poor working conditions. When speaking to Kenny who lives in the mine, he states that one day the workers just stopped working and sat down, probably referring to a strike. Herzog wasn't very happy when he heard about what they were doing so he blew up the entire site with a "million million tons" of dynamite, according to Kenny. Kenny's exaggeration here is apparent, but there is a large amount of collapsed rock with many skeletons visible inside, showing signs of an explosion and subsequent cave-in. After he detonated his explosives, Kenny says that old man Herzog hung himself.
Herzog Mine is set into the rock cliffs south of the Ark & Dove resting grounds. It can be accessed by a path down the rocks from the top of the cliff, or by climbing up to it from the beach below. It consists of a small cave entrance with some rubbish around.
The mine is a set of tunnels winding into the cliffside. Various branches of the mine have collapsed, due to explosives set off before the Great War. Kenny is the mine's only inhabitant, and has set up numerous traps to make the mine seem haunted. Eventually, winding through the passages will lead to Kenny's Cave.
Kenny's Cave
Edit
Notable loot
Edit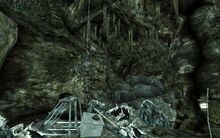 Appearances
Edit
Herzog Mine appears only in the Fallout 3 add-on Point Lookout.
Behind the scenes
Edit