Special:ListUsers is a special page that allows you to view all people who have edited a specific wiki. The page gives details such as number of edits, last edited date, date when they were last logged in, and user groups - with several options to filter the list.
A useful idea for newer wikis is to check the list for new users, and see if they have unused talk pages - this way you can quickly find new people to welcome.
Inclusion criteria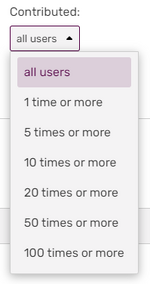 To be seen on the default list of active users, a user must have 5+ edits OR belong to 1+ group (sysop, staff, etc.) on that wiki.

You can change the criteria for number of edits by clicking the dropdown menu labeled "Contributed".

Staff, bots, bureaucrats, rollbock, and sysops will appear regardless of how many times they've ever contributed on the wiki.

The checkboxes at the top of the page can be checked to see only users from a certain group (for more information on what these groups signify, please see Help:User access levels).
Other Notes
A short cut to view this list with only the wiki's bureaucrats and sysops groups selected is at Special:ListAdmins.
Admins can easily access ListUsers by clicking on "User List" (icon: ) on the Admin Dashboard.
For wikis with a lot of users, it may be useful to use the "Display users at" box to get to users with names that start with later letters at the alphabet, instead of flipping through all the pages to get to the - say "T" or "Z" - section of the page.