The H&H Tools Factory is a building located directly to the west of North Vegas Square.
Background
H&H Tools Factory was the Houses' family owned company. Robert House's half-brother, Anthony House, cheated the inheritance of the company from Mr. House when their father died. Anthony House suffered from paranoia, which led to increasingly severe security measures at the company, between 2020 and 2023. In 2077, he locked down the H&H Tools Factory in outer Vegas and activated its security systems. He also planted frag mines inside the interior of the factory and fired all his employees.
Layout
The building consists of two floors with sporadic placements of traps and frag mines. Throughout the building are a number of terminals with correspondence between one another. While most correspondence is business related, in one room the E-mails between each computer are humorous and sexual in nature. Part of the bottom floor contains an industrial area leading up to the top floor. The top floor contains the office of Anthony House, half-brother of Robert House.
Through the double-doors to the left of the entrance brings you to a hallway. The first room to the left is a kitchen containing a variation of loot. The door at the end of the hallway is protected by five frag mines in front of the door. There is also a rigged shotgun on the desk connected to a trip-wire on the other side of the door. If you detonate the mines, the trip wire will consequently be broken. Going to your right, you will encounter a crazed Mister Handy. The next two doors to the left are guarded by two level-dependent automated turrets. The door to the right has a pressure based steel girder trap and leads to a room flooded with radioactive liquid.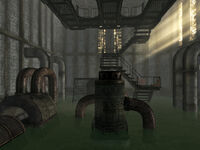 Going forward from the entrance is a large metal room guarded by two robobrains, the ground flooded with irradiated water. Going up the metal steps on the second landing are four frag mines. Going all the way up will bring you to a metal catwalk. The room ahead has two frag mines at the doorway and contains a suspicious terminal that holds the journal entry 04/15/2077. The office to your left is Anthony House's old office guarded by a shotgun trap tied to a trip wire right inside the door. On top of his desk lies a red Lucky 38 VIP keycard. The computer in this room gives you the ability to perform an executive override in the Lucky 38 penthouse after a hack. Down the hallway to the right leads to some offices with a terminal holding the Journal Entry 04/06/2058 and 12/27/2064
Notable loot
Notes
Appearances
H&H Tools Factory appears in Fallout: New Vegas.
Behind the scenes
See also
Parentheses () denote sub-locations, italics denote unmarked locations.