| | |
| --- | --- |
| | This is an overview article which contains background information and cross-game comparisons. For game-specific information and stats, see the articles linked on the right. |
A grenade launcher is a weapon that launches a grenade with more accuracy, higher velocity and to greater distances than a soldier could throw it by hand. Grenade launchers can come in various forms and types from pistols to fully automatic machine-gun variants, all being man-portable weapons firing grenade rounds.
Grenade launcher
Edit

Standard model that fires a 40mm grenade.
Grenade machinegun
Edit

The grenade machinegun is a powerful rapid-fire weapon which uses 25mm ammunition. The attached computer monitor appears to show the weapon's feed system and other details, although this is purely cosmetic and does not reflect actual use.
Grenade rifle
Edit

The grenade rifle launches 40mm grenades over a respectable distance. Although its range is longer than regular hand grenades and the fuse is impact-triggered instead of timed, its ammunition is less powerful and its single-shot, break-action design makes rapid fire impossible.
25mm grenade APW
Edit
The 25mm grenade APW is a semi-automatic grenade launcher. It gives the player the death-dealing capability of the grenade machinegun in a more portable package.
Grenade pistol
Edit

The grenade pistol is a flare gun modified to fire 40mm grenades.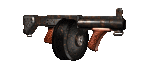 Heckler is a drum-fed grenade launcher that fires 40mm grenades.