Deathclaw Picture
Forum page
Ad blocker interference detected!
Wikia is a free-to-use site that makes money from advertising. We have a modified experience for viewers using ad blockers

Wikia is not accessible if you've made further modifications. Remove the custom ad blocker rule(s) and the page will load as expected.
I'm new to the Vault and I'd like your opinion on this picture of a deathclaw I drew. I rushed it at the end and it only took half an hour, so it's not very good.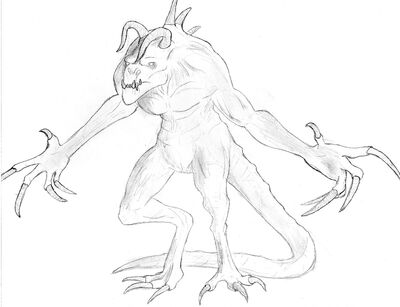 Olney Dweller 00:26, August 31, 2010 (UTC)Olney Dweller
As a Pitt raider would say, "Lookin' good, newbie!" :P --Kris mailbox 00:55, August 31, 2010 (UTC)
Wow that looks really good. -bleep196- 01:15, August 31, 2010 (UTC)
That's freakin awesome man. I feel like pulling out my Terrible Shotgun and vatsing it in the face a couple of times. Jimbo2go 08:45, August 31, 2010 (UTC)
Thanks, guys, if you want me to draw anything else, just write it on here. Olney Dweller 11:11, August 31, 2010 (UTC)Olney Dweller
not too bad man.Jakemantle6969 13:14, August 31, 2010 (UTC)
Draw a centaur. I hate those f*ckers. Jimbo2go 05:44, September 2, 2010 (UTC)
Will do one centaur coming up. Olney Dweller 20:17, September 2, 2010 (UTC)Olney Dweller