Can´t activate the power plant
Forum page
Hello, I have reset the quest "That Lucky Old Sun" because i just want to try out one of the 5 solution and forgot to save. I can play the quest till the point that i should acitivate the Reflector Control Panel but it didn´t work when I activating the reflector control nothing happens. At the first time (before resetting the quest) there a window appears that i have to wait till 9 - 15. When i want to activate the control panel per console... nothing happens. Please help me maybe i only have to reset a trigger but i don´t now how.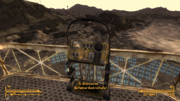 Blakahraz 22:28, November 26, 2010 (UTC)
Ad blocker interference detected!
Wikia is a free-to-use site that makes money from advertising. We have a modified experience for viewers using ad blockers

Wikia is not accessible if you've made further modifications. Remove the custom ad blocker rule(s) and the page will load as expected.