Flooded metro
Talk

2
17,852pages on
this wiki
Flooded metro

Site
map marker
Flooded Metro
The flooded metro marks access to a Metro tunnel in the southwest of the urban DC area, between the Arlington Library and Red Racer factory. A large raider encampment is just to the southeast of this location, across a road full of derelict cars.
The flooded metro is located on the side of an old expressway which is littered with decrepit pre-War cars and runs under the rubble of a highway overpass. The entrance to the old metro station is located in the middle of a square at the bottom of a set of nonfunctional escalators. On the other side of the expressway lies a large raider camp, whose occupants can easily overpower a lower leveled player.
Notable loot
Edit
Appearances
Edit
The flooded metro appears only in Fallout 3.
Behind the scenes
Edit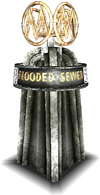 The station appears to have meant to have been named "Flooded Sewer". The files for the flooded sewer location refer to this specific flooded metro, and even hold files for the Shocker glove and an unused Metro sign. Since there is another location on the game map of the same name, it would seem that either at one point in development there was a mix-up, and this Metro was meant to be named "flooded sewer" but an oversight meant it never got round to being done, or some other situation occurred.
References
Edit