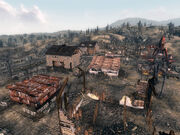 Andale
is a town in the south of the
Capital Wasteland
, touted by its residents as the greatest place on Earth. However, it seems that its purportedly inbred population harbors a dark secret. The town's name is a corrupted version of its pre-War name,
Annandale, Virginia
. Two of the host families, the Smiths and the Wilsons, seem to think it's still the pre-War era, while the third house is home to
Old Man Harris
, who warns you that they're stone cold killers and that you should run while you still have the chance.