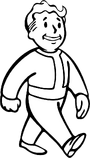 In 2002,
Chris Avellone
started putting out on a semi-regular basis what he called a
Fallout Bible
. The idea, initially elaborated by community veteran Dan Wood, was to create a document that would serve as a total guide to Fallout: the history of the setting, the elements that compose it, the things that define it and the rules that guide it. It would also serve to tie off loose ends left by the games and to generally do some clearing up of things. It was certainly a good idea, especially as the prospect of someone who wasn't
Black Isle
making
Fallout
games grew ever more real. The problem, however, is that it really didn't work out that way.