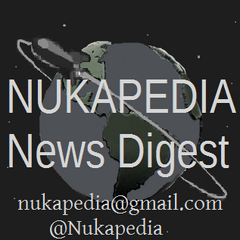 The Nukapedia News Digest is a weekly wrap up of Nukapedia's recent internal news, Wikia news, Fallout game news, and some news relating to the people who develop the Fallout games.
How does it work?
The Nukapedia NewsSquad Usually publish the news over most weekends. Once its published, our twitter and Facebook feeds will be updated, so follow us to keep updated on the latest events.
Sometimes this schedule will not be adhered to - in the event of major news, or a lack of news. The Editor In Chief usually makes this call.
What kind of content should be included?
Depending on what content is available, the following sections may appear
Wiki related news (...From the Administrative Enclave)

A round up of official wiki procedural news - policy proposals, rights requests, policy changes, etc.

News from Wikia

Major announcements from Wikia - Wiki upgrades and new projects be the team at Wikia.

Game news

We cover news relating to the future Fallout games in detail, and offer some coverage to other projects by the developers and companies that bring us the Fallout games (in particular Bethesda/Zenimax, Obsidian and InXile.

Other areas of interest

We'll occasionally cover fan projects, and other items from the cold war, or technology developments that may be of interest.
Suggestions for next issue
Please either post these in the comments of the previous news post, or with a member of the NewsSquad
Recent digests
The three most current issues are displayed below. For a full list, please refer to Category:Wiki news digests.

Some news from Bethesda today. The headline of their news release says they've "expanded" into Austin, however, all is not as it seems.

What is now Bethesda Games Studios Austin was yesterday known as "Battlecry Studios", a subsidary of Zenimax Media LLC. For those of you who need a refresher on the Zenimax empire, Zenimax owns publisher Bethesda Softworks, who in turn owns Bethesda Games Studios. So rather than a new studio, this is more than a rebranding.

Battlecry Studios had failed to produce anything of note. It was founded in 2012 initially to work on Freemium and microtransaction games. Its flagship game was also to be known as BattleCry, but rather than release games Battlecry has merely released staff to the unemployment line. So this rebrand is probably part of a major change of direction for the studio, and I'd expect to see BattleCry join the big "Cancelled Games" junkyard.

Bethesda Games Studios Austin will be headed by Doug Mellencamp, who judging from his Linkedin profile …

Read more >

Some interesting announcements have hit our press release inbox this week. Lets take a look at them - Fallout Game of the year, a new Dishonored game, and a Sitcom from Wolfenstein 2...

Return to the Wasteland on September 26 with Fallout 4: Game of the Year Edition. With all the latest gameplay updates (including Survival mode), graphical enhancements, the ability to play Mods for free on PC and consoles, plus all official add-ons included, this is the ultimate way to experience the award-winning post-nuclear adventure from Bethesda Game Studios.

Winner of more than 200 "Best Of" awards – including the 2016 BAFTA and 2016 D.I.C.E. Game of the Year – Fallout 4 is the studio's most ambitious game yet. As the sole survivor of Vault 111, players enter a world destroyed by nuclear war. In a fight for survival they are faced with rebuilding and determining the fate of the Wasteland.

Fallout 4: Game of the Year Edition includes the fully updated original game along with all six add-ons: Nuka-…

Read more >


Fantasy Flight Games, whom have previously developed board games based on Star Wars, Game of Thrones, Doom, and World of Warcraft, have announced an impending Fallout board game.

Read more >