Fallout Wiki:Wiki news digest
Talk

7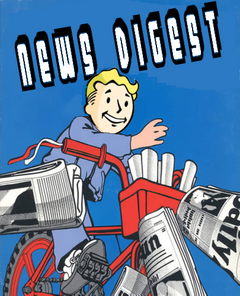 The Nukapedia News Digest
is our weekly update on Wiki News, Fallout News, and more
If you think that something should be added to the next issue, please either drop it in the comments, contact us through the methods above, or leave a note on
Agent c's
or
Gaming Foxy's
talk page.
The Nukapedia News Digest is a weekly wrap up of Nukapedia's recent internal news, Wikia news, Fallout game news, and some news relating to the people who develop the Fallout games.
How does it work?
Agent c usually posts the news on Friday or Saturdays. Once its published, our twitter and Facebook feeds will be updated, so follow us to keep updated on the latest events.
In the event of a major issue regarding future games, a breaking news piece may be posted before the main news.
What kind of content should be included?
Depending on what content is available, the following sections may appear
Wiki related news (...From the Administrative Enclave)

A round up of official wiki procedural news - policy proposals, rights requests, policy changes, etc.

News from Wikia

Major announcements from Wikia - Wiki upgrades and new projects be the team at Wikia.

Game news

We cover news relating to the future Fallout games in detail, and offer some coverage to other projects by the developers and companies that bring us the Fallout games (in particular Bethesda/Zenimax, Obsidian and InXile.

Other areas of interest

We'll occasionally cover fan projects, and other items from the cold war, or technology developments that may be of interest.
Suggestions for next issue
Please either post these in the comments of the previous news post, or you can also leave these direct with Agent c
Recent digests
The three most current issues are displayed below. For a full list, please refer to Category:Wiki news digests.
Welcome to the Nukapedia news digest. Apprently if I don't write something witty here, the front page of the wiki looks weird. Now you know why I do it, even though you never read this part.

Nukapedia's administrator.

-Energy X

A story that we're not able to just let past us is this piece in Kotaku. They allege they've been "blacklisted" by Bethesda (and Ubisoft).

Although this hasn't been officially stated to them (Sony tried that back in 2007... and soon found that became the news story), they have had "radio silence" from Bethesda HQ since last December... about the same time as the leak with the script that ended up being strangely accurate.

This is to the extent that they're not receiving review copies or call backs from the Bethesda PR team.

I can't help but draw parallels between a certain Fallout 4 Character and this particular attitude to the free press...

Ars Technica correspondent Rupert Goodwins Went through an as-life experience at UK "Secret" nuclear bunker Kelvedon Hatch (j…

Read more >

Welcome to the Nukapedia News Digest. Less than 2 weeks until Annihilation.

In your edition this week.




Here's our pics of the week... see what I did there? Actualy these are all from the Art of Fallout 4 book, which you can obtain the special edition from the bethstore, and the regular edition from other retailers.




$20 Each, Shipping next week.

Read more >


Extra, Extra, Read all about it.

In your edition this week:




This week's pictures have been selected by Me. No correspondence will be entered into. This is a recording.







There's also a limited version of the art book at $85 - although this is available elsewhere the 5,000 available on the BethStore, this version includes some extra pages - and a digital edition (of the basic version) in case you want to keep yours in mint condition.

Bethesda has team up with Carlsberg to create a special Fallout Beer! Citizens of the United Kingdom can get a taste of it from November, 5.

http://www.gamespot.com/articles/fallout-4-gets-its-own-beer-promises-hoppy-taste-a/1100-6431686/

Are you a DOTA fan? This might convince you to buy Fallout 4 on Steam...




Read more >