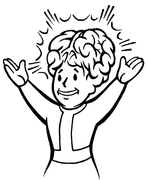 After being dipped in
FEV
vats, absorbing some other people and being connected to the
LA Vault
computer, the
Master
gained some
psychic powers
the extent of which is unknown. He was able to attack humans mentally, although his attacks could be repelled with proper training. The Master was able to somehow bring forth psychic abilities in certain humans after they were injected with FEV, but most of the experiments were failures (resulting in insanity) or used to line the corridor of revulsion. There were four psykers in the Master's lair:
Wiggum
was electrokinetic-dominant,
Lucy
was telekinetic-dominant and a minor photokinetic,
Moore
was pyrokinetic-dominant, and
Gideon
was a receiving-telepathic-dominant (without the ability to control his telepathy, requiring the psychic nullifier to block incoming thoughts) with minor photokinetic abilities. All four of them died when
the Cathedral
was vaporized in nuclear fire.