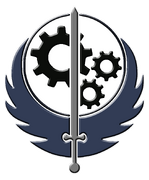 Captain
Roger Maxson
was originally the second in command of the security team stationed in the
West Tek research facility
since
January 3, 2076
.
The team and research personal were later (January 7, 2077) relocated to the Mariposa Military Base where further FEV research was conducted. On October 10 Maxson and his men learned about the human experiments going on in the base, the base morale suffered a hefty blow.
The original leader of the security team,
Colonel Robert Spindel
, suffered a nervous breakdown and was replaced in command by Maxson.