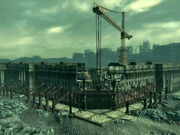 The
Citadel
is the headquarters of the
Brotherhood of Steel in the Capital Wasteland
, built into and beneath the ruins of the
Pentagon
in present-day Arlington, Virginia.
The ruling council of the Brotherhood of Steel, based in the Lost Hills bunker in South California, decided to send a contingent of soldiers to the East Coast, to recover any and all advanced technology from Washington, DC and to investigate the reports of super mutant activity in the area.
The Pentagon, as they had feared, was largely destroyed. But its sub-levels remained intact, and contained enough pre-war technology and weaponry to keep Brotherhood forces going indefinitely (once the defense
robots
were destroyed). But there was something else, as well… a technological marvel that, if restored, could help the Brotherhood rebuild a strength and reputation that had been declining steadily for years.