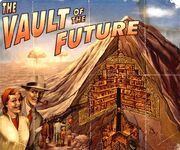 The Vaults
are a series of massive underground fallout shelters developed by
Vault-Tec
in the mid-21st century.
Initially it appeared that the Vaults were designed to save the population of the US; however, there were not nearly enough Vaults for this purpose. The true, sinister reason is that these 'shelters' were in fact a series of sociological experiments conducted by the Enclave. Each Vault was set up with different conditions, and then observed to see how the dwellers within coped with the pressure of isolation.
It was initially intended that while the player was reading the
Vault 8
records in
Fallout 2
, he could discover a classified file (opened with a successful Science skill roll) which explained that Vault 8 was a "control Vault," designed to hold 1000 people and to open on time. This file was intended to foreshadow the discovery of the true and sinister purpose of the Vaults.