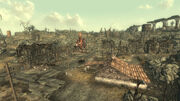 Springvale
is a small, bombed out town in the
Capital Wasteland
, located 3-4 miles northwest of Arlington,
VA
. It is the first town the
Lone Wanderer
(should) discover, just down the road from
Vault 101
, and is hard to miss. Judging by its appearance, one can assume before the war it was a significant suburban area, cozy but big enough, and just far away enough from the hustle and bustle of D.C. It's a fairly deserted area, infested with
giant ants
(but not Springvale, itself). Several
Enclave
propaganda bots also fly around.