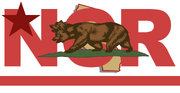 The
New California Republic
(
NCR
) is a federation of towns in
California
. The capital of NCR is the town of the same name (population: 3000+), previously known as
Shady Sands
. It is west of the Rockies, in the middle-eastern portion of California (almost straight east inland from San Francisco). In
2241
the Republic consists of 5 states -
Shady
,
Los Angeles
,
Maxson
,
The Hub
, and
Dayglow
. The population is about 700,000 people. The NCR is arguably the largest known power group in the world of
Fallout
, and maintains the largest standing army. The New California Republic was born out of the remnants of the survivors of Vault 15, a sister vault to
Vault 13
that opened earlier and released its occupants out onto the wasteland. Abandoning their
vault
, the former residents of Vault 15 founded the small walled community of Shady Sands, a town midway between Vault 13 and 15. Around
2241
, NCR's main resource are its great brahmin herds, which provide most of the wasteland with as much meat and leather as they require. The
brahmin
barons and ranchers in NCR (along with the Stockmen's Association) hold a great deal of sway with the caravans and the government.