This page lists all pets in Fallout Shelter.
The content is not described in full detail on this page. For details, please see the respective articles.
For pets in other Fallout games, please see "creature".
For an overview of Fallout Shelter content, please refer to "Portal:Fallout Shelter".
"
Move pets around to the dwellers that most need their bonuses
"
— Vault Dweller's Survival Guide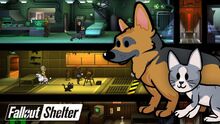 Pets are domesticated small animals: cats, dogs and parrots, that confer a bonus effect on the dweller to which they are assigned. Assigned pets can be used either inside the vault or outside in the wasteland. One pet may be assigned to each single unpaired room, with two pets the maximum for double rooms and three for triple paired rooms. Pets can be found in common form, with generic breed names, rare form with generic names or uniquely named legendary form. The rarer the pet, the greater the bonus it confers; but even identical pets may confer bonuses with slightly different strengths. Pets can be found in pet carriers and are assigned to dwellers in a similar fashion as weapons and clothing.
Pet overview
Edit
Image
Breed
Legendary name
Bonus
Abyssinian
Zula
Damage resistance
American shorthair
Sterling
Wasteland caps
Bombay
Shadow
Health
British shorthair
Ashes
Healing speed
Burmilla
Cloudy
Diamond
Crafting cost
Havana brown
Merlin
Crafting time
LaPerm
Luna
Pouncer
Static
Wasteland junk
Lykoi
Calypso
Damage
Maine coon
Bangor
Training time
Manx
Genius
Shakespeare
Stubbs
Twins chance
Ocicat
Speckle
Wasteland weapons & outfits
Pallas's cat
Cinder
Wasteland junk
Persian
Mr. Pebbles
Happiness
Scottish fold
Ginger
XP
Siamese
Goblet
Rad healing speed
Somali
Saffron
Crafting time
Sphynx
Bastet
Princess
Wasteland return speed
Toyger
Kato
Stranger chance
Turkish Van
Duchess
Pumpkin
Child SPECIALs
Image
Breed
Legendary name
Bonus
Akita
Kabosu
Kuma
Stranger chance
Australian shepherd
Bandit
Oscar
Muffin
Child SPECIALs
Black lab
Muttface
Training time
Bloodhound
Duke
Moose
Valentine
Wasteland junk
Boxer
Scavver
XP
Brittany
Gaston
Crafting time & cost
Cattle dog
Four Score
Wasteland caps
Collie
Pal
Crafting cost
Dalmatian
Lucky
Pongo
Twins chance
Doberman
Apolda
Healing speed
English mastiff
Goliath
Crafting cost
German pointer
Mr. Peepers
Rad healing speed
German shepherd
Dogmeat
Objective completion
Golden retriever
Cindy
Wasteland weapons & outfits
Greyhound
Little Helper
Crafting time
Husky
Lupo
Trench
Scout
Wasteland return speed
Pitbull terrier
Hulk
Ranger
Titan
Damage
Poodle
Lord Puffington

Lupo

Happiness
Rottweiler
Maizie Rai
Health
St. Bernard
Barry
Sam
Wasteland junk
Image
Breed
Legendary name
Bonus
Pirate parrot
Coco
Wanderer
Damage resistance
Trained parrot
Butch
Polly
Tiki
Damage
Vault-Tec parrot
Pip
Vinnie
Objective completion
Ad blocker interference detected!
Wikia is a free-to-use site that makes money from advertising. We have a modified experience for viewers using ad blockers

Wikia is not accessible if you've made further modifications. Remove the custom ad blocker rule(s) and the page will load as expected.